New Releases: August 9th, 2017
This week's highlights include new releases from Mimi Pond, Brian V. Vaughan/Cliff Chiang and a Charles Forsman reissue.
---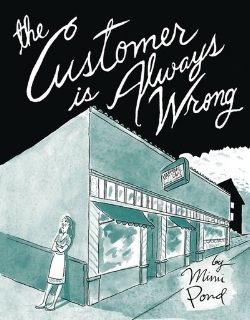 Pond's semi-autobiographical coming of age tale takes place in a sleazy sector of 1970's Oakland. Madge's view of her co-workers at the Imperial Cafe as well as it's patrons are funny and loving - even when harshly honest. (448 pages, 6" x 8.3", Drawn and Quarterly, 2017)
by Brian K. Vaughan/Cliff Chiang
Still dominating the comics world with the endlessly popular Saga, Vaughan's other book has truly hit it's stride. Paper Girls quickly turned into a large scale sci-fi epic with Chiang's gorgeous art stepping up to the plate issue by issue.
A hardcover collection of Forsman's TEOTFW minicomic series following the road trip drama of two teens as their lives spiral farther and farther down a twisted dark path. (176 pages, 5.25" x 6.75", Fantagraphics, 2017)