New Releases: August 16th, 2017
This Wednesday sees new releases from Yuichi Yokoyama, Erin Nations and the Bitch Planet universe.
---
Iceland follows a group of characters in the Icy Far North in this surreal "neo manga" from the creator of World Map Room. Translated by Ryan Holmberg. (92 pages, 5.75"x8.25", Retrofit Comics, 2017).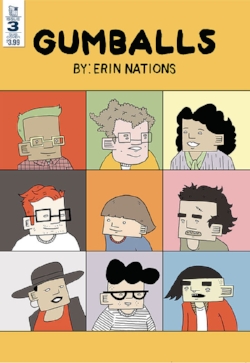 Erin Nation's honest and funny biographical anthology comic tackles the struggles and victories of the transition process. Issue 3 brings a handful of new mini stories, centered around hormone injections, skateboarding, triplet stories and newly experiencing male privilege. (32 pages, 6.625"x9.5", Top Shelf Productions, 2017)
Bitch Planet Triple Feature #3
Three creative teams enter the Bitch Planet universe for a third time. The triple feature series allows for more stories in the oft-delayed but always worth it series, while also offering new ideas and perspectives in one of the comics most unique and important universes. This month's contributors are Alissa Sallah, Dylan Meconis, Kit Cox, Alec Valerius and Vanesa Del Rey.